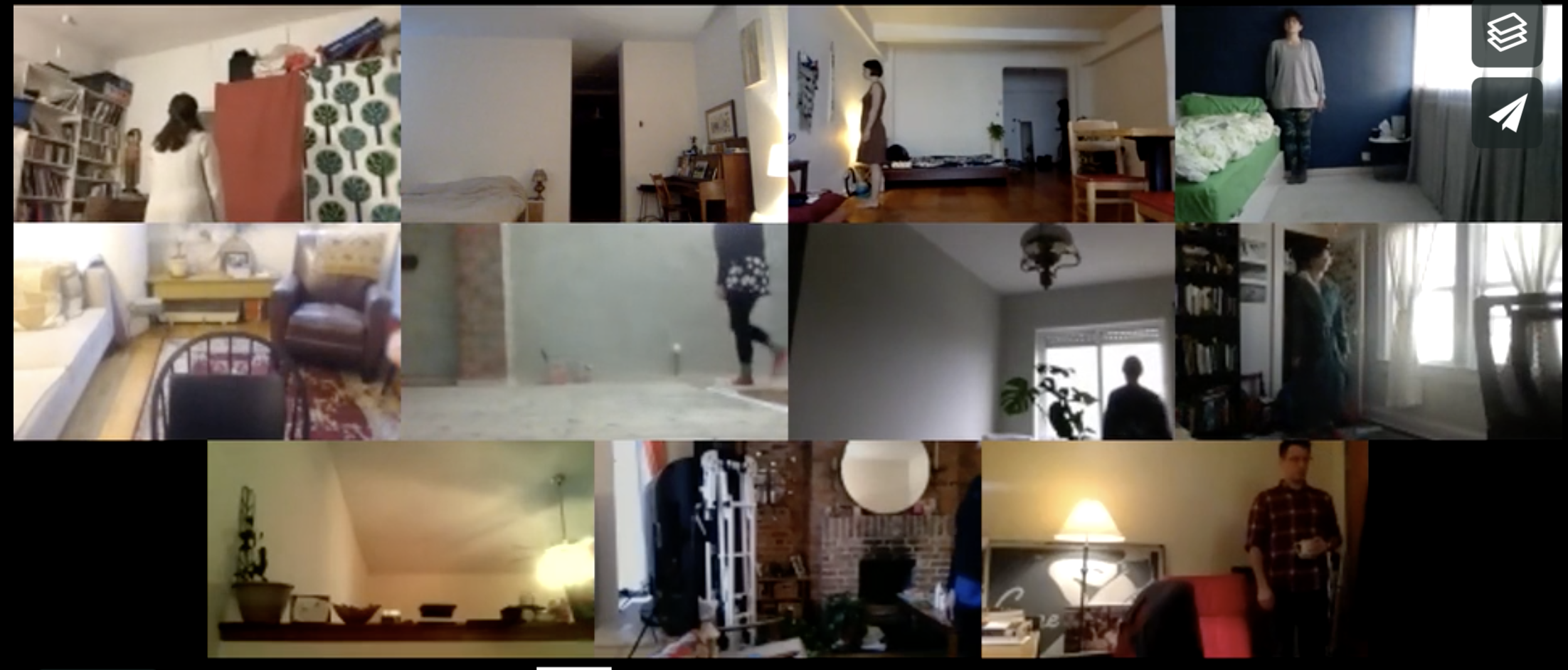 Six Viewpoints
9-week on-line course
REGISTRATION NOW OPEN
THE NEXT COURSE STARTS IN JANUARY 2020!
$315
Originated by dancer/choreographer, Mary Overlie, the Six Viewpoints deconstruct the materials used in performance: space, time, shape, emotion, story, and movement, opening up their infinite possibilities. The study of the Viewpoints introduces performance makers to a clear vocabulary of materials to spark research or new perspective on their own work.
A little more about the course —
It happens LIVE once/week. Sessions are also recorded in case of absence or for playback. Supplemental materials are included in a (non-facebook) community forum.

January 21-March 17
Tuesdays
12pm - 2pm EST
(10am - 12pm MT, 5pm - 7pm GMT, 18h - 20h CET)

Course is limited to 10 students.

$315
or three payments of $115
Scholarships available.
Deborah's Journey to the Six Viewpoints
I love art.

I fall in love with it over and over and over again.
Painted, Danced, Written, Spoken, Drawn, Sung, Sculpted

All of it.

Each moment in history has produced art, a reflection of the times. Artists absorb the present and produce work that can shape and influence society tomorrow. We live on the precipice of future. 

I spent three years studying the history of art. I've spent about 30 years in dance and theatre studios. I spent 5 years working in a museum. I spent twelve years making costumes and sitting backstage during musicals and plays. I've taught circus performers, dancers, actors, singers, and writers for over a decade.

The first time I saw contemporary dance I wanted to jump up on stage and join them. The second time I saw it, I wanted to understand why they had made the choices they made.

Performance is complex. Not only do we make it together and come up against one another in a space in order to do it, it is also an extremely layered process with multiple lineages. We are asked to make performance quick and often to stay in the game.
This leads to imitation. The work loses its power.
I've found the Six Viewpoints give me a pathway into the unknown. By studying and practicing each of the materials of live performance, I can make them known. My assumptions melt. A curtain lifts to reveal greater and greater possibility, sparking my creativity.

Curious?
What students are saying —
"Deborah is a very skilled and talented tutor and this was the ideal introduction to Overlie's fascinating body of work. The course is carefully paced and inventively structured and offered many rich learning experiences, combined with my solo practice. This experience has really enriched my creative work and holds much potential for the future."
—Scott Thurston, poet and mover
"This workshop series was another positive experience for me and confirmed my support for the ongoing work by Deborah Black. I am very grateful for her expansive consideration of somatic understanding with the Six Viewpoints, which in turn were originated by Mary Overlie. In my experience and understanding, her developments help to further understand possible consequences of various (culturally formed) patterns that otherwise have come to be taken for granted. Anyone interested in further understanding what cultures are made of for the present is warmly recommended to give this workshop-series a try, meet potentially interesting other explorers, in a very exciting and interesting, as well as affirming environment."
—Thomas Körtvélyessy, dance artist and re-former, certified Master Teacher of Kinetic Awareness®
"It's absolutely amazing to work with Deborah and the Viewpoints. I think the most amazing thing about it, is that it's for everyone. You do not have to be an artist, it's valuable in, I think, every kind of work you do, but especially in youre life. It gives you a different, brighter, perspective on things."
—Femke Brinckman, Dance and Movement therapist
"I cannot recommend this class enough - for anyone who is already familiar with the Viewpoints material or who wants to deepen their practice. Deborah is an amazing teacher who has an answer to every question. I was amazed how easy it was to work with people in this virtual way and would do it again any time!"
—Ilka Luza , actress ilkaluza.de


"Deborah is a gifted and compassionate teacher. Her teaching and direction is clearly defined and she executes it with clarity and precision in a very heart-felt sense. The Viewpoints concepts were presented in very grounded and practical examples. And I appreciated the ingenious creative exercises and humor! This workshop helped me immensely in developing a deep connection to presence and gave practical tools useful in art making and everyday life."
—Maryanne Chaney, dancer, teacher, choreographer
"Viewpoints is a system of developing awareness, deepening our perception of ourselves and how we exist in relationship to our planet and its inhabitants - sentient and otherwise. Designed by Mary Overlie primarily as a tool for creative exploration and performance, the system as presented by Deborah Black can be applicable to any endeavor - namely the complex act of living a human life. Studying with Deborah and the fantastic group she gathered for this inaugural course has not only impacted every part of my creative process but also offered me concrete tools for arriving more fully from one minute to the next in any circumstance. While I am still a novice, Deborah has helped me understand how deeper investigation into each of viewpoints and their relationships is a lifelong practice that will help me as a performer, maker, and person. I look forward to continuing this journey with Deborah and on my own in the studio and on the street."
—Gina Hoch-Stall, Dance Artist, ginahochstall.weebly.com
"Deborah is a well suited to facilitate and teach the Viewpoints work because of her extensive background and experience. Over and above that she is calming steady, trusting and a true "midwife" of the work."
—Martha Gelnaw, actress and corporate coach
"Deborah's Viewpoints workshop was just the right balance between the theoretical and experiential. I came out of it feeling physically and emotionally engaged and with a better understanding of how to apply the Viewpoints to my own work."
—Anna Savant, actress
"Deborah's weekend introduction to Viewpoints was excellent. Her insights were both fascinating and helpful. As a facilitator, she created a calm yet encouraging atmosphere-- I felt comfortable and inspired to explore and experiment!"
—Terra Vandergaw, theatre-artist and teacher
"I love Deborah's research-based approach to facilitating and training. I felt free to try and try again without pressure to be anything but myself - and present. This mode of training was more like playing, and that in itself is radical presence."
—Julia Levine, director
the fine print
(If you apply and pay and then cancel your attendance on or before December 17, I will refund you your costs, minus $25 to account for administrative overhead. If you cancel your attendance after December 17th then all costs are non-refundable.)